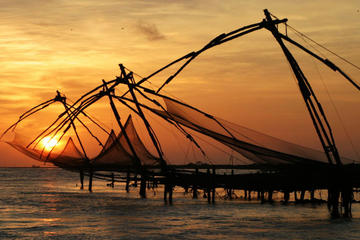 December, the tourist rush month of Kochi, has many festivals and special attractions to welcome.
Kochi was formed as an ancient port city after the 'Great Floods of the Periyar River' in 1341 by the European Empires.
Kochi is the potpourri of the Portuguese and other European culture. The first wave of immigration started with the Syrian Christians, followed by Jews between the 7th and 10th centuries. Arab merchants also made a strong settlement in Kochi. In the 15th century, Gujaratis settled in Kochi, especially on Mattancherry Island, where they played a strong role in spice trading and other areas. 
Tourist Places & Wear
The best time to visit Kochi is from August to February. December is famous for its Cochin Carnival and Christmas celebrations. Onam season (mid Aug-mid Sept) is another time to visit the city when the entire city is decked up.
If you plan to go in December then pack your light sweater, chic dresses, shorts to have a gala time during your visit. The weather is likely to have cool winds and light showers in between.
Book a plane from your city which will take you to the Cochin International Airport located in Nedumbassery, 29 km from the city center, which is the largest airport in Kerala and one of a major gateway to India. It is also India's 4th busiest International Airport.
Visit the Hill Palace Museum, St. Francis Church and Fort Kochi Beach for starters. Do attend the Cochin festival which takes place from December 20th – January 1st every year. It is the biggest carnival festival of the city with colorful rallies, fancy dress parades, beach games, bike races, sports, concerts and dances, followed by the night beach parties which is its highlight. On the New Year's Eve, a large statue of Papanui(Santa Claus image) is taken to the beach and set on fire at the stroke of 12, which is followed by a grand party.
The houseboats on the backwaters, the pleasant weather and the grand New Year party would surely make your trip relaxing, fun and  memorable. I hope this small guide would be of your help. Have a wonderful experience in Kochi!
Photo Credit: https://cache-graphicslib.viator.com/graphicslib/thumbs360x240/7491/SITours/kochi-shore-excursion-private-glimpse-of-kochi-tour-in-kochi-188638.jpg